For our 5th wedding anniversary last year, my DH bought me a Babe's spinning wheel. I've been knitting so much that I haven't gotten too much spinning done, but I did make this hat from start to finish last year:
The roving was give to me by a co-worker, and so I spun it and knit up this Unoriginal hat by the yarn harlot. This weekend I got the spinning bug again and got lost in my own little fiber world: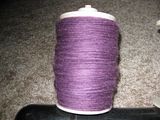 I'm going to ply these together; it will probably be a DK or worsted weight. The roving is corridale bought from The Purple Fleece in Searsport Maine. They are the folks that sold me the spinning wheel. The fam was at the Commonground Fair and I was looking at the wood Ashfords and Louets she had out. Then I noticed a box with the description of the Babe wheel on it. Since these wheels are made from PVC pipe, they weren't allowed to be on display. The fair is all about organic/natural living-coffe isn't even sold inside! The ladies from the Purple Fleece were so nice, I highly recommend seeing them if you are at the Commonground or in Searsport!
Next roving up: Cherry Tree Hill merino in blues & purples bought at Pins & Needles in Farmington Maine.